Intel announce Core i7 processors, reviews show up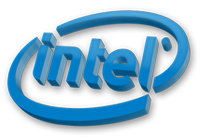 Monday 03rd November 2008, 11:00:00 PM, written by
Rys
For the longest time it was known simply as Nehalem, a brand new microarchitecture and the next tick of Intel's release cadence for x86.  Now it has officially broken cover as Core i7, the successor to the massively popular Core 2 products that took the world by storm 2 years ago in June 2006.
Those two years have seen dual- and quad-core processors on 65 and 45nm major process nodes, and Intel have all but eaten up the desktop and server processor markets in the time since released.  AMD have taken a true beating in the biggest processor market upset since the Opteron.
Core i7, looking at the reviews available today, doesn't see the blows abate or slow down in the slightest.  Intel appear to be going for the jugular with Core i7.  The top of the line 965 XE model -- nomenclature that mirrors that of a truly terrible high end processor of theirs in recent memory, oddly -- embarasses Intel's outgoing high end processor, the Core 2 Extreme QX9770, never mind Phenom X4 9950 from AMD.
Fundamental chip- and system-level architecture changes are behind the new performance levels, Intel making use of a 250mm+ squared die area and 700M+ 45nm transistors to fabricate the first processors to implement it.
The chief area of focus is the memory heirarchy, from per-core L1 all the way up to a new cross-chip L3, and from there out to the on-chip memory controller and new interconnect to other processors (and therefore memory pools) in the same local system.
That heirarchy has seen tweaks at all levels, from 8T SRAMs for L1, to 8MiB of L3, with the DDR3-only memory controller and the new HyperTransport-esque 'QuickPath Interconnect' for the system level connection notable too.
L3 can potentially run at full chip clock, an impressive boost compared to AMD's L3-sporting competition, access latencies are low for all levels including system memory, the caches are inclusive, and the memory controller sports three channels in the top end initial configurations.  That's right, 192-bit to system memory for each processor socket.
The potential gains from the freeing up of the memory subsystem alone are large, and they're directly responsible for the impressive performance in 'HPC'-class workloads.  That they're backed up by compute-level improvements (read David Kanter's architecture analysis at Real World Tech for the details) is even more impressive, and Intel have brought back HyperThreading to get the most out of the new processor engines.
Then you have a chip-level innovation that uses power level monitoring and impressive per-core power management to run the processor faster than the rated clock, to help single-threaded and near-idle workloads.
HyperThreading can be a real hindrance to measured performance, but it's responsible for allowing the chip to schedule and execute eight threads in parallel where possible, out of a single die in a single socket.  It's a first for x86, and Intel seem confident in having the multithreading technology return to its processor line, on top of an already parallel multicore architecture.
The Quickpath link is a point-to-point serial bus, clocked high and providing 25GB/sec+ to the system core logic per link.  The first implementations have two, although only one used in desktop/consumer form.
Intel have released X58 and ICH10(R) as that logic for the first Core i7 models, and the MCH provides support via PCI Express 2.0 for NVIDIA SLI and ATI Crossfire multi-GPU techology.  The support for NVIDIA's technology is notable in that it doesn't need one of NVIDIA's nForce 200 processors to work properly, although NVIDIA recommend it.
The 965 XE is a 3.2GHz processor, running the entire chip at that clock (including L3), with support for 3.4GHz+ operation depending on chip load via the aforementioned power management system.
There's also sundry support for SSE 4.2, some new instructions and support for parallel processing codes, and some new virtualisation bits and pieces for higher performance.
Availability is 'November', meaning today's announcement is a soft launch, and it seems the XE will be joined by a 2.93GHz 940 and a 2.66GHz 920.  Both non-XE chips run the 'uncore' at 2.13GHz (slowing the QuickPath link too), compared to the XE's 3.2GHz.
As always,
the Tech Report has an excellent launch day analysis for those keen to see just how far Intel have moved the game on again
.
Pay particularly attention to the introduction where Scott lays the foundation for explaining the last few pages that cover power, overclocking and his final thoughts.
Tagging
intel ±
core, i7, nehalem, cadence, tick, tock, dear, christ, it's, fast
Related intel News