FirePro workstation accelerators launched by ATI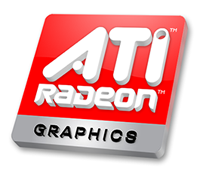 Saturday 09th August 2008, 11:21:00 AM, written by
Rys
ATI have announced a new line of workstation-class graphics accelerators, which they're calling FirePro.  ATI position FirePro underneath FireGL in terms of the relative levels of performance that the products offer, marking them as the company's entry level professional accelerators.
The first of the two models at launch is the FirePro 3D V3700, which is seemingly powered by the 55nm RV620, and features a single 40 ALU SIMD shader processor and 256MiB of GDDR3, tied to a 64-bit external memory bus.  Connection to the host is PCI Express 2.0, and the board sports a pair of HDCP-protected dual-link DVI outputs.
The FirePro 3D V5700 is powered by the brand new RV730, with 320 SPs, likely via the same 4 SIMD configuration first seen with R600, PCI Express 2.0, two DisplayPort outputs (each supporting 2560x1600) and a single dual-link DVI output with HDCP support.  512MiB of GDDR3 can be found attached to the chip's 128-bit external memory bus.
Both parts have dual 10-bit display pipes for HDR rendering on supported displays, they both support Shader Model 4.1 / Direct3D 10.1, and 32-bit and 64-bit Linux and Windows OS platforms are supported across the board.
Warranty periods are three years for each, handled by ATI themselves, and you get direct toll-free phone access to a dedicated product support team at ATI if you're a customer in North America.
Both products are available immediately.
ATI FirePro Website
Tagging
ati ±
firepro, firegl, workstation, displayport
Related ati News