GPGPU and 3D luminaries join 3D graphics heavyweights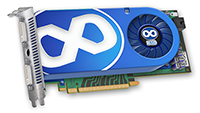 Monday 07th January 2008, 06:06:00 PM, written by
Rys
A couple of superstars in their own spaces have made professional newsworthy leaps. GPGPU pioneer and attractive hire for both companies we're about to mention, Mike Houston, and long-time (Direct)3D heavyweight, Tom Forsyth, have both taken up key positions at two 3D graphics giants.
Mike, key adviser to Beyond3D as we explored GPGPU in its infancy, is joining the AMD Graphics Products Group under the stewardship of Raja Koduri, one of AMD's most talented graphics engineers. He takes up an architecture position, helping AMD build future generations of graphics products, while also helping to steer their software direction when it comes to general compute on the GPU. AMD have to engineer themselves out of a hole right now, and Mike will be key to that effort.
TomF's well known by anyone with an interest in 3D graphics programming, via his output on 3D and game programming mailing lists web-wide. Just about to leave RAD Game Tools for the Larrabee team at Intel, we reckon that signals Intel's intent to do good things with Direct3D with their upcoming architecture, since TomF's expertise in that field is crystal clear.
We wouldn't ordinarily mention hires as news, but given who the guys are, where they're going and what they're going to do, it's well worth a mention for anyone with a keen eye on the future direction of programmable 3D graphics hardware. Both are key to their respective employer's success in the field.
No idea who Mike and Tom are? Shame on you. How about a visit to
Mike's Stanford Uni homepage
, or
TomF's blogwiki
to get up to speed. We've also
interviewed Mike on Folding@Home on the GPU
. Pick apart the ramifications of the hires in the comments thread below.
Tagging
graphics ±
amd, intel, mike, houston, tom, forsyth, tomf, larrabee, gpg
Related graphics News