New Ageia PhysX processor on PCIe pictured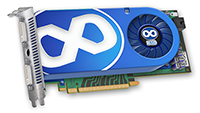 Saturday 08th September 2007, 12:12:00 PM, written by
Rys
X-bit labs, via Newhua, have pictures of the next generation Ageia PhysX processor on PCI Express.
The company has had record quarterly sales of the existing physics accelerator, something Xbit puts down to good exposure at the recent Games Convention.
The pictures show a large die (which looks to be ~250mm2 at a glance) on a x8 PCI Express PCB, with the cooler from old GeForce 7-series models you might recognise. That cooler was a noisy nuisance, so here's hoping any production models use something a bit less offensive to the ear.
There's no real world on performance levels, price or a release date, so we'll have to wait for Ageia to give up the goods there. Lastly, we wonder what the split connected on the board edge is for. Chaining multiple PhysX processors is the likely reason.
Thanks to X-bit Labs for the tip
.
Tagging
graphics ±
ageia, physx, next, generation, pci, express
Related graphics News