Sapphire Gemini HD 2600 X2 DUAL announced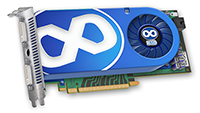 Monday 03rd September 2007, 12:12:00 PM, written by
Rys
Hot on the heels of
the GeCube dual HD 2600 XT announcement last Friday
, Sapphire are set to announce a similar product very shortly today.
It seems that Sapphire's version uses the same PCB as the GeCube version (although we can't tell conclusively from the shots of both that are available), so outwardly the only difference between the two is the cooler, given that both use GDDR3 memories to support both available configurations.
You can get the product with 512MiB or 1024MiB of total memory (half those nominal amounts per GPU), and the hardware supports two displays per GPU, Crossfire, UVD, DirectX 10, HDMI and all the other technologies AMD saw fit to endow Radeon HD 2600 XTs with.
The two-fan copper cooler looks to do the business of cooling two GPUs, although we've got no data on how noisy the thing is under reasonable Crossfire loads. Speaking of Crossfire, the support for dual-GPU 3D acceleration with the Sapphire HD 2600 X2 DUAL isn't universal and you'll require a Crossfire-supporting mainboard for that to work, as you would if you used two discrete AIBs to get the two GPUs provided.
The most appealing thing about these dual HD 2600 XT products for us is the support for four dual-link DVI outputs, letting you drive four dual-link displays at the same time, a feature which should work just fine without a Crossfire-compatible mainboard if that's what you'd want a Sapphire HD 2600 X2 DUAL for.
Pricing is likely comparable with GeCube's offering, which should mean around $259 for the 512MiB version, and $279 for the 1024MiB version.
Tagging
graphics ±
sapphire, radeon, hd, 2600, x2, dual, crossfire, quad, dvi
Related graphics News