Diamond Multimedia to release VFX 2000 Series Pro workstation board with 2GiB, R600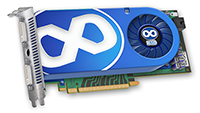 Monday 03rd September 2007, 10:10:00 AM, written by
Rys
HotHardware have the scoop on an upcoming AIB release by Diamond Multimedia that pairs AMD R600 with 2GiB of GDDR4 for the professional workstation market.
The VFX 2000 Series Pro use 16 high density GDDR4 DRAM devices to satisfy the specification of 2GiB of memory and a 512-bit external memory bus, and thus the product instantly becomes the undisputed framebuffer size/bandwidth leader.
Interestingly, Diamond Multimedia aren't allowed to use the FireGL moniker to brand these boards, because of legal issues with the name some years back, but we presume it's the FireGL driver that you'll either have to use, or Diamond will supply, to get the VFX 2000 Series Pro working. Does using a FireGL driver constitute Diamond admitting it's a FireGL, despite never using the name?
Regardless, it's clear the VFX 2000 Series Pro is a FireGL V8650 in all but name, something Diamond might rue as the initial creators of the FireGL brand name back in the day.
Thanks to HotHardware for the tip
.
Tagging
graphics ±
diamond, firegl, v8650, 2GiB
Related graphics News