Gabe Newell says DirectX 10 shouldn't have been limited to Vista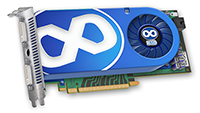 Tuesday 28th August 2007, 10:10:00 AM, written by
Rys
Referencing his company's online hardware survey, Newell says, "Microsoft made a terrible mistake", in limiting DirectX 10 to Vista, saying it should be available on Windows XP too.
According to heise online
, developers creating cross-platform games look to the lowest common denominator, and since none of the next-gen consoles support Shader Model 4.0, only a few games use it.
Given that modern 3D consoles have never shared a graphics programming API, nevermind Direct3D, we're not sure that makes too much sense, even if Gabe was referencing hardware capabilities rather than the programming model.
Regardless, he seems quite adamant that DirectX 10 hardware uptake when paired with Vista is slow, at least as measured by the Valve survey.
The current survey shows 8% of Steam users are using Vista
, with a subset of that using DirectX 10 graphics hardware to create the platform being talked about.
Tagging
graphics ±
valve, steam, survey, gabe, directx10, microsoft
Related graphics News