Microsoft release August 2007 DirectX SDK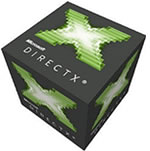 Wednesday 01st August 2007, 11:11:00 AM, written by
Rys
Microsoft released the August 2007 DirectX SDK revision on Monday, bringing with it a technology preview of Direct3D 10.1, an update to the release schedule for future SDKs and a beta of XAudio2, among other juicy morsels.
The D3D 10.1 Tech Preview lets developers start to look at what's coming in the next revision of the 3D component of DirectX, which will be supported by certain hardware implementations this year.
New features mentioned for D3D 10.1 include an update to the core shader model (to 4.1), the ability to get MSAA sample positions and choose a sample pattern for any given resource (two key updates which shouldn't be glossed over in terms of what that means for hardware implementations), support for rendering to block-compressed textures, more flexibility when copying resources and blending for snorm and unorm surface formats.
XAudio2 is a cross-platform audio API (Windows and Xbox 360) based on that already provided for the 360's version of DirectX and destined to be the replacement for DirectSound. It's a full software stack with no concept of hardware acceleration, and it's designed to be efficiently multi-threaded and run well on multi-core PC platforms.
The release schedule for the SDK is changing, too, Microsoft moving away from bi-monthly releases to a different four-yearly schedule. November 07, March 08, June 08 and August 08 are the next four months to see an SDK release for DirectX.
You can find the rest of the goodies in the SDK documentation itself. Either
visit the DirectX Resource Center
for more information, or
hit the download page for the SDK directly
.
Tagging
directx ±
august, sdk, 2007, d3d, 10.1
Related directx News