Samsung SyncMaster 940UX @ X-bit Labs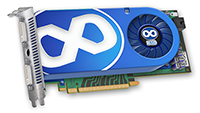 Thursday 14th June 2007, 09:09:00 AM, written by
Rys
X-bit Labs have taken a good look at the worlds first USB-input PC display in the consumer space, Samsung's SyncMaster 940UX. Driven by a DisplayLink DL-120, the 1280x1024 940UX takes USB video input as well as DVI and VGA.
The 19 inch display features good on paper specs with low response time for colour switching and a high contrast ratio, and X-bit apply their latest monitor testing methods to unit, giving it a good workout.
In terms of its panel tech and performance, the TN-based LCD did well during gamma curve testing, brightness and response time, X-bit concluding it was well set up out of the box.
For the USB input to work you need Windows XP (Vista drivers are still under development) and a decent CPU, since there's no traditional hardware acceleration for video output like you get with a discrete AIB or even IGP graphics solutions.
X-bit's conclusions, given there's no 3D acceleration by the driver......
take a look at the article to find out
. Cool tech on display from DisplayLink, and one that has application to graphics that goes beyond use in consumer displays.
Tagging
graphics ±
samsung, 940UX, x-bit, DisplayLink
Related graphics News