Product:

GeForce FX 5900 Ultra (Reference Sample)


Chipset:

NVIDIA GeForce FX


Introduction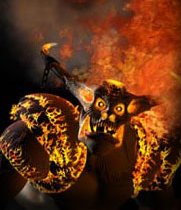 Recently NVIDIA have been operating on a slightly compressed timescale in the high end. In our GeForce FX 5800 Ultra Review we highlighted the apparently rocky road NVIDIA took with the NV30 chip which ultimately took its toll on the GeForce FX 5800 class products. Subsequent to GeForce FX 5800's release there were continuing stories as to whether or not it would go fully into production due to talk of very low yield rates for the NV30 silicon and how late it was to the market. It soon became apparent that the production run of the chips would be short lived and it's said that only thousands of units actually shipped. Eventually NVIDIA did cancel production of the 5800, but that's because the hold-ups to NV30 had only marginally impacted on NV35, and so by May '03 NVIDIA were ready to announce its successor.
Announced just before E3, NV35, a.k.a. GeForce FX 5900 Ultra was hailed as curing all of the 5800's ailments, replete with a 256-bit memory bus width and apparently faster DirectX9 Pixel Shader performance. Today we're going to dig into the performance of the GeForce FX 5900 Ultra to see just how it differs from the 5800.
The Chip

First we'll take a rundown of properties and features of the NV35 chip that powers the GeForce FX 5900 series.
Chip Specifications
Chipset
NV35
Silicon Process
130nm (TSMC)
Transistors
130 Million
Packaging
Flipchip
Pipeline Configuration
4x2 (Pixel Pipe lines x Texture Sampling Units)
8 Z/Stencil
Memory Interface
256-bit interface DDR/DDR II
Display
2x 400MHz 10-bit DAC's
165 MHz TMDS transmitter (DVI 1.0 compliant) and TV Out
Bus Standard
AGP 8X
The general configuration of NV35 remains very similar to NV30. Where NVIDIA initially tried to advertise NV30 as an 8 pipeline based chip testing indicated that it could only output 4 colour writes per clock, and NVIDIA have since openly stated that NV35 is a 4 pipeline design with two bilinear texture samplers per pipe with an optimised stencil rendering path.
The transistor count of NV35 increased by 5 million over NV30, which given NV30 was already 125Million isn't that great a growth in relative terms. NV35 also features a wider memory bus, doubling up on NV30's bus width to 256-bit.
The configuration and turnaround time suggests that one of the major tasks for NV35 is to sort out some of the more obvious deficiencies, relative to the competition, while increasing yields from the 130nm process. Indeed, when we toured NVIDIA's Headquarters and visited the silicon qualification lab they stated that the qualification process of NV35 was very straightforward due to its similarity with NV30.
The features of NV35 largely stay the same as NV30, but with a few differences. Let's take a quick view of the feature list first:
CineFX 2.0 Architecture

DirectX 9.0 Optimisations and Support
Support for long Pixel and Vertex Shaders.
High precision Graphics with support for up to 128-bit Floating Point (FP32) precisions
Up to 16 textures per pass

Intellisample HCT

2X/Quincunx/4X/4xS/6xS/8X Anti-Aliasing modes
4:1 Z and Colour compression
Fast Z and Colour Buffer Clears
Dynamic Gamma Correction
Up to 8x Anisotropic Filtering

UltraShadow Technology

Advanced Display options

nView Multi Display technology
Digital Vibrance Control
Integrated TV-Encoder
Integrated MPEG2 Decoder
For more details on the CineFX architecture see our NV30 Announced: GeForce FX article. Some of the details above have changed slightly from the rest of the NV30 series, so we'll take a little closer look at these and what they can offer to the end user.