Introduction
With AMD's graphics group's next generation of Radeon products just about to break cover, NVIDIA have decided to preempt any attack on their single-board performance leadership by announcing GeForce 8800 Ultra today, usurping GeForce 8800 GTX as their premier graphics product.
Launching today with availability on the 14th May, the same day that AMD will announce their next generation line, GeForce 8800 Ultra is based on the same G80 architecture as the other 8800-series SKUs. It's created by means of increased clocks in all three main clock domains compared to the GTX launched last November.
GeForce 8800 Ultra
Coming clocked at 612/1500/1080MHz (base/shader/mem), compared to 8800 GTX at 575/1350/900, 8800 Ultra differentiates itself in clocks and cooling solution alone, sharing the same PCB and memory count as 8800 GTX. NVIDIA have employed Samsung's 512Mib K4J52324QE GDDR3 DRAM devices again, but this time they're rated to 0.8ns refresh, giving them a rated clock of some 1200MHz. Running at 1080MHz, the memories are 20% faster than on GTX (103.6GB/sec peak bandwidth), and with shader clock up more than 10% and base clock up nearly 7%, NVIDIA claim an aggregate performance increase of around 5-10% versus GTX over a range of titles and at a range of resolutions.
Our initial game test results confirm NVIDIA's statements with 6-9% gains over 8800 GTX at 2560x1600 with 4xAA/16xAF in S.T.A.L.K.E.R., Half-Life 2: Episode 1 and Oblivion. We'll present the full spectrum of results around the same time we'll cover AMD's next generation Radeon hardware. Peak instruction rate testing shows the serial MUL in the SFU is still unavailable for general shading, at least under Vista x64 with the 158.18 driver. Fillrates through the ROPs are scaling as expected with base clock, and peak surface filtering rates (INT8 bilinear at least) are ~5% higher than GTX in our tests.
NVIDIA claim a set of process tweaks are what have allowed them to create the Ultra, allowing them the higher clocks at the same rough power profile as 8800 GTX. Indeed, NVIDIA state that worst-case power draw is actually a couple of watts lower than GTX.
However NVIDIA also state that the new power profile doesn't affect every die cut from the wafer starts that are benefiting from the tweaks, and they also don't state what the tweaks comprise. The net result is that it's actually a bit of a lottery as to whether you'll get an Ultra (or indeed a GTX or GTS, since the tweaked wafers are to be used for all 8800 production) with the new profile.
Our testing with an A3 revision 8800 Ultra shows it has substantially higher idle and peak power compared to a 8800 GTX in the same test system. The hardware platform for the power testing was nForce 680i SLI, Intel Core 2 Extreme X6800, 8GiB DDR2-800 and the same disk subsystem each time. The load condition consisted of 3DMark05 GT3 running at 1920x1200 with 4xAA/16xAF.
Power Testing Results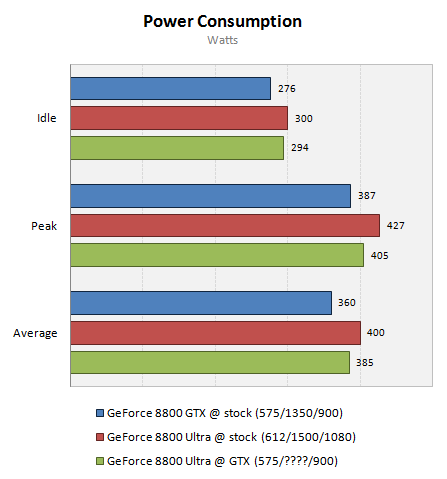 As you can see, 8800 Ultra consumes around 11% more on average in our 3DMark05 test, with the peak around 10% more. Idle power isn't impressive compared to GTX either. Clocking the board down to GTX's base and memory frequencies (shader clock unknown because of the tools to adjust clocks) shows our test Ultra can't match our GTX in the power stakes, clock-for-clock. There's no way to tell if the G80-based product you're buying will exhibit the new power profile in terms of consumption.
Board Physicals
Ultra and GTX share a PCB with only minor board-level component differences. The cooler is different however, NVIDIA moving the fan placement in the cooler assembly to overhang the board edge, presumably to aid airflow. Noise seems to be unchanged, our test Ultra no different to our GTX under load conditions. If there are noise differences, we're unable to detect them. Neither DVI port is able to drive a dual-link receiver with HDCP protection, and for those that care about the minutiae, the entire Ultra product assembly is 30g heavier than a GTX.
Early Thoughts
Priced at €599EUR (~$820USD/~£470GBP), we tentatively argue -- before we run the full gamut of tests -- that the performance increase offered by the Ultra certainly isn't worth the asking price at the time of writing, given that you can find overclocked GTX offerings from NVIDIA's AIB partners for much less money.
Factor in the power profile issue, where you're not guaranteed to get a G80 die that's any better in that respect than before, and the financial ask for the SKU on launch is too much. However, as a clear boutique part, there's little doubt that NVIDIA will sell those it produces to the very few consumers that must have the fastest no matter what it is or what it costs.
It remains to be seen if it's enough to keep the performance crown, as we wait the last week or so before the next generation of Radeon hardware breaks cover. We'll pit the Ultra, GTX and GTS against the first new Radeon SKUs, to see where things shake out, since we've not been able to spend a massive amount of time with the board to date, given NVIDIA's sampling policy for the product.