Today 3Dlabs announce two new products, Wildcat4 and Wildcat VP 560. Interestingly neither of these products are based on the
P10 chip
, brought to the market a few months ago. We'll explore these two new products in a little greater detail from the press material recently released.
"A Wildcat for Everyone"
With the introduction of Wildcat4 and Wildcat VP560 3Dlabs intend to push their product portfolio further into both the extremes, with Wildcat4 giving higher performance in professional graphics and Wildcat VP560 being a lower cost derivative of the Wildcat VP series, bringing all that has to offer at a lower price.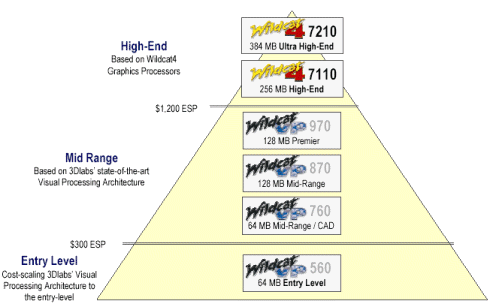 All these products here are still aimed squarely at the professional market, despite 3Dlabs being a wholly owned subsidiary of Creative. The intention is for 3Dlabs to stay solely focused of Workstation products whilst Creative will bring 3Dlabs based technology into the mainstream consumer market. How this will actually operate is a little fuzzy at the moment. Previous presentations indicated that the Egham (UK) division would work on consumer oriented products, whilst the former Integraph (US) side of the business would concentrate on the high end workstation business. Seeing as the Egham end of the business were the designers of the P10 architecture though it will be interesting to see how the business will be restructured. Its unlikely they will wish to operate completely separate designs, and indeed the US developers will now be adopting the P10 (or development of) architecture for the next range of high end products.
Lets take a slightly closer look at the two new products.

Wildcat4 follows on in the same vein as its predecessor WildcatIII. Similar to WildcatIII its a fairly large AGP PRO50 board with two geometry/raster units.
Wildcat4 7110
Wildcat4 7210
What's new on on these Wildcat4 boards, in comparison to WildcatIII, is the addition of more graphics memory, faster core clock speeds and the implementation of AGP8X.



Ultra High-End Wildcat4 7210

High-End Wildcat4 7110

Graphics Engine
Dual Wildcat4 Graphics Processors
Pipelines
Geometry - 6
Render - 4
Total On-Card Memory
256 MB (DDR)
(128 MB frame buffer, 128 MB texture)
384 MB (DDR)
(128 MB frame buffer, 256 MB texture)
System Bus
AGP 8X / AGP Pro 50
Dual Head
Yes - dual DVI-I
Other Output Connectors
1 Stereo
1 Stereo, 1 Genlock, 2 Multiview
RAMDAC
Dual 10-bit, 320 MHz
OpenGL Version
OpenGL 1.3
DirectX Version
DirectX 7.0
OS Support
Windows 2000, Windows XP, Linux
Availability
November 2002
When 3Dlabs initially took over the Integraph team their contract stipulated that 3Dlabs would bring forth 3 revisions of this Wildcat series and this is the final revision. As mentioned before its now likely that this side of 3Dlabs business will take the P10 architecture and scale it up into higher end products.