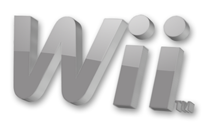 Last Tuesday Nintendo announced its
earnings for fiscal year 2007
(
Videostream of the Financial Results Briefing
), which ended on March 31st. As previous revised bullish projections indicated might be the case, Nintendo's consolidated revenue rose to all time high of 966.634 billion yen, up from 509.249 billion yen last year. Operational income and net income rose from 90.349 and 98.378 billion Yen to 226.024 and 174.290 billion yen, respectively, during the past year, thus signifying an increase by over 150% and 77%.
Nintendo's forecast for FY 2008 remains good: Revenue is expected to grow to 1,140 billion yen. Additionally, operating income is expected to rise by 26.7% to 290.000 billion yen, while net income remains relatively stagnant (175.000 billion yen), mainly due to foreign exchange losses of 20 billion yen, compared to gains of 23.131 billion yen in FY 2007.
The Kyoto based company mainly attributes the strong operating results to its strategy of expanding "gaming to the masses", i.e. a move to broaden the gaming market's demographics. In this context the "Touch! Generations" software line-up was specifically mentioned. The majority contributor to its results were Nintendo's handheld products; yearly Nintendo DS sales sky rocketed to 23 million units, boosting DS's installed user base to over 40 million handhelds. Nintendo's new home console Wii also enjoyed good sales with 5.84 million units sold worldwide since its launch in November 2006.
Sales:
The fiscal year 2007 saw enormous growth of Nintendo's handheld business following the success of the Nintendo DS.
Upon closer inspection of the sales revenue breakdown for the electronic entertainment products division a few things seem noteworthy. While the revenue stream from handheld hardware is up by 67.1% (374.063 billion yen total), the revenue from console hardware increased almost 7 fold in FY 2007 to 156.478 billion yen, giving testimony to strong Wii sales which invigorated the Nintendo's console business. Moreover, the continuous success of the DS propelled revenue from DS software to 291.916 billion yen, compared to 172.661 billion yen in FY 06. Still handheld products carry on to be the backbone of Nintendo.
Both DS software and hardware sales doubled during FY 2007, reaching 123.55 and 23.56 million units sold respectively, with Japan accounting for the majority of the sales. Nintendo expects this development to continue in FY 2008: Both software and hardware sales are projected to remain stable (SW: 130 million units HW: 22 million units). Among the most successful titles on the platform were the latest instalment in the Mario series, "New Super Mario Bros" (9.5 million units worldwide) and the Brain Age series (8.08 million worldwide; LTD: 13.6 million units). Nintendogs continued to sell strong with 6.95 million units sold (LTD: 13.6 million units). Both Nintendogs and Brain Age were cited as examples for DS long term sales success. Pokémon (5.21 million units sold in Japan) is also expected to sell well in FY 2008, following its release in other regions.
A different situation is observed with regard to Wii, Nintendo's home console, which enjoys comparatively good software sales in the Americas. Achieving almost 6 million sold units after only 5 months on the market, Nintendo forecasts hardware sales to remain strong, targeting sales of 14 million consoles in FY 2008 --which would bring Wii sales close to its predecessor's life-to-date sales in only 18 months. In line with this ambitious goal, Iwata promised a
production boost
to remedy severe supply shortages. A Nintendo spokesman also confirmed an
increase of its production capabilities
, currently limited to 1 million units produced per month. In addition, Nintendo also expects sales of 55 million software units for its home console. Thus, Wii is predominantly responsible for the projected rise in overall revenue of the company. Additionally, Wii's Virtual Console, Nintendo's download service for classic games, managed to sell 3.3 million titles.
Comparing both the DS and Wii to their predecessors, i.e. the Game Boy Advance and the Nintendo Gamecube, shows an interesting overall trend. Nintendo's newest batch of products seems to cater more to audiences in their home market. While both GBA and GCN's most important market was the North American territory, Wii and DS enjoy far better sales in Japan. At the moment, Nintendo's new focus on expanding beyond traditional gaming demographics has established them as the leader in hardware sales in Japan. An Enterbrain survey concluded that increased marketing of Nintendo – the budget doubled from 45.515 billion yen in FY 2006 to a projected 90 billion yen in FY 2008 – has had a considerable impact on the public perception and the appeal of its latest consoles to new gamers.
| | | | | | | | | |
| --- | --- | --- | --- | --- | --- | --- | --- | --- |
| | | | |   |  GBA |  DS |  GCN |  Wii |
| | | | |  Japan |  4.34 |  4.69 |  6.82 |  3.06 |
| | | | |  The Americas |  5.08 |  4.94 |  10.63 |  6.11 |
| | | | |  Other |  3.93 |  4.06 |  8.89 |  5.60 |
| | | | |  Overall |  4.61 |  4.57 |  9.54 |  4.94 |
Wii's tie ratio in Japan is lagging behind numbers in other markets, probably due to the fact that Wii Sports is bundled with the console in other regions. Still, an attach rate half that of other regions could be evidence of a lack of diversity and compelling software titles at this early stage of the product lifecycle. The DS on the other hand seems to have already reached the levels of the GBA.
Outlook:


The strategy for future growth outlined by Nintendo rests mainly on further expanding gaming audiences. According to a survey conducted by Nintendo of Europe in January 2007 among 746 new users who joined the Nintendo Club after purchasing Brain Training with participants from Germany, Italy, Netherlands and the U.K.,  80% of the respondents said they would definitely acquire new software for the DS. Among the software they did purchase were non-game software like English Training or Big Brain academy but also classic franchises like New Super Mario Bros. Nintendo sees this as evidence their underlying strategy is correct.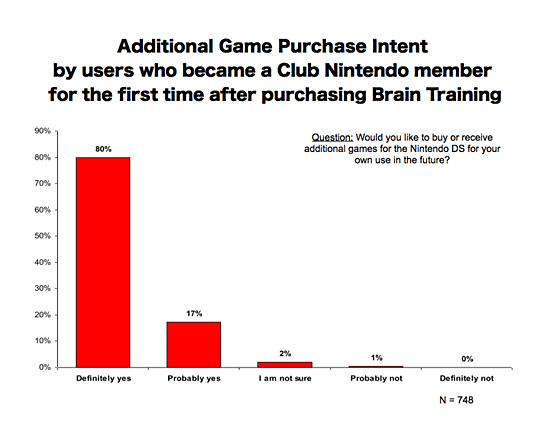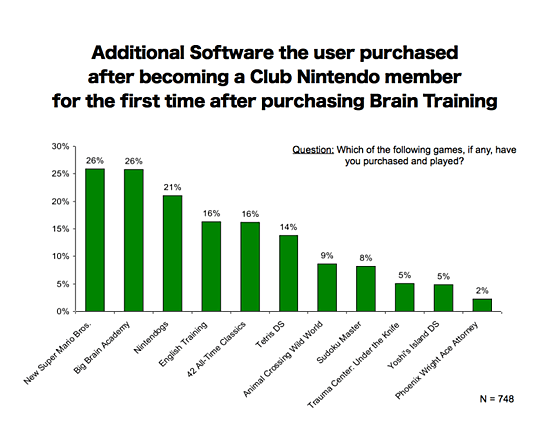 Nintendo also addressed concerns during the conference call about the DS reaching market saturation: Iwata told the audience that Nintendo aims to establish the DS as a "must-have for everyone", not just a "must-have for families". As for Wii, in addition to further diversifying its software line-up, Nintendo expects that increasing online content, in the form of Wii channels, should further boost Wii sales by integrating the Wii in people's everyday life. According to Nintendo's own figures currently 40% of the sold Wii consoles are connected to the internet. Iwata also referred to a Club Nintendo survey in Japan. The surveys results showed the Wii placed in the living room of 75% of Japanese households and is regarded by Nintendo as evidence of the success of their strategy. An Enterbrain survey also reported 46% of Wii's Japanese user base hadn't used a game console in the 3 years previous to their purchase, or are completely new to console gaming. While Nintendo did not give any midterm goals for a total user base of its products, Iwata said that the company would aim to sell as much as 300 million software units, i.e. an increase of over 50% of the projected numbers, for FY 2008.
All in all, Nintendo's projected targets seem very ambitious. While
analysts
see further "unhindered" growth and a realistic long term stock value of over 44,000 yen per share (currently: 37,800 yen), it remains to be seen if indeed 14 million Wiis can be sold in FY 2008, especially since a significant price drop of the competing consoles from Microsoft and Sony is expected later this year, thus decreasing Nintendo's price advantage. Moreover, the lower tie-ratio in Japan points to a lack of diversity in the line-up. However, an increased marketing budget could widen Nintendo's target audience and thus compensate for some of these aforementioned effects. The Nintendo DS has also reached a critical stage: As life-to-date sales in Japan have reached GBA levels, market saturation could take place. Nevertheless, if the DS truly achieves mainstream penetration, its sales could reach PS2 levels (
Japan: 24.76 million units sold
) during the current fiscal year. Interestingly, Nintendo's R&D budget is also rising from 37.725 billion yen in FY 2007 (30.596 billion yen in FY 2006) to 45 billion Yen this fiscal year. This could indicate that a successor for the DS is getting prepared for a release in FY 2009.